The treatment and professional service I have received at Greenside has been second to none. I am delighted with my new "rock solid" denture. "Bring on the apples" I say. Highly recommend procedure for all denture wearers. Thank you Doctor Woods and your amazing staff, from one very happy patient.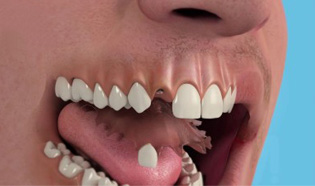 Dental implants are the only permanent way in which a dentist can replace your missing teeth. As dentists, we always recommend replacing missing teeth, not just for the obvious aesthetic concerns gaps in your mouth can raise, but also for oral and general health reasons.
Even one missing tooth increases the strain put on remaining teeth when you bite and chew food. Not being able to bite or chew properly can restrict your diet to soft foods, making it difficult to obtain adequate nutrition and causing problems for your general health.
Teeth around the gap are also likely to move into it, becoming crooked and harder to clean in the process. This in turn raises your chances of developing gum disease and tooth decay, and ultimately can lead to further tooth loss.
Dental implants help to prevent these problems, restoring your beautiful smile and giving full functionality to your jaw. At Greenside Dental Care in Cleckheaton, all of our implant surgery is carried out by our experienced implant dentist Dr Chris Woods.
How it works
In essence, a dental implant is a bionic tooth root. Teeth comprise the crowns we can see, and the roots beneath the gum line, and standard tooth replacement options only replace the crowns. Dental implants are placed directly in your jaw bone in a small surgical procedure, carried out here at our C dental practice under local anaesthetic. In the case of one missing tooth, your dentist will usually attach a crown to the abutment on top of your implant.
Implants are made from titanium, which is used because of its high degree of compatibility with the human body. Your dentist will usually leave your implant to heal for a couple of months before attaching your permanent new tooth on top.
At Greenside Dental Care we accept referrals for implant treatment from other dentists. Please complete our online referral form if you have a patient requiring dental implants.
To find out about how long dental implant treatment takes, click here.