The treatment and professional service I have received at Greenside has been second to none. I am delighted with my new "rock solid" denture. "Bring on the apples" I say. Highly recommend procedure for all denture wearers. Thank you Doctor Woods and your amazing staff, from one very happy patient.
Have you lost all of your natural teeth, or been told by your dentist that your remaining teeth are failing? There is another option available to you if you don't want to wear traditional dentures: at Greenside Dental Care we can place a series of dental implants in Cleckheaton and neighbouring town Mirfield.
Case 1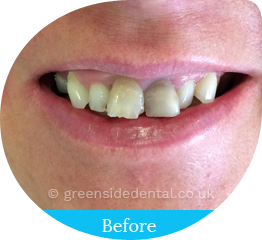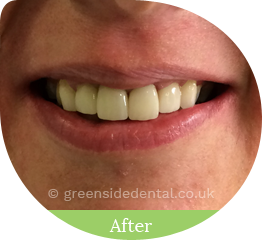 Case 2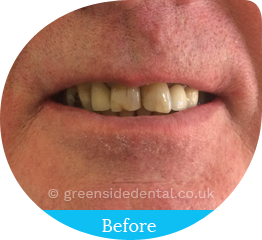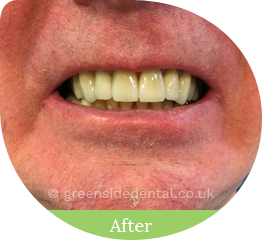 Dental implants offer the only permanent solution to missing teeth. They can give you a second chance, restoring not only your smile but your ability to eat a full, healthy, balanced diet. With proper care and regular visits to the dentist and hygienist, dental implants could last you a lifetime.
The problem with standard dentures
Dentures have been used for centuries to replace missing teeth, and the modern versions are designed to be comfortable, realistic in appearance and action, and long-lasting. However, many denture wearers find that over time their new teeth start to become loose and uncomfortable, making it difficult to bite and chew solid foods and even falling out at unfortunate moments.
This happens because traditional dentures only replace the crown portions of missing teeth. When the tooth roots are lost, the jaw bone slowly starts to resorb or shrink back, as can the soft tissues of the mouth. That causes previously well-fitting dentures to become loose, necessitating frequent visits to the dental practice to have your dentures adjusted, and requiring the use of messy dental cements.
Case 1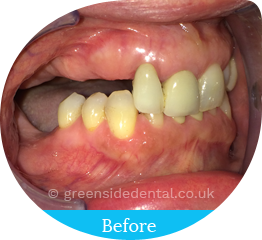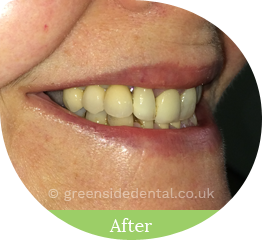 Case 2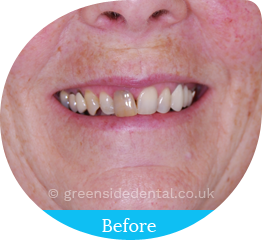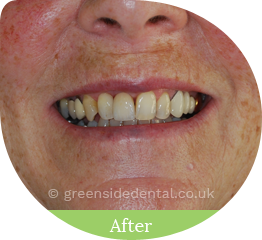 Dental implants help to prevent these problems because they act as replacement tooth roots. They are made from titanium, which is highly compatible with the body and supports bone growth, helping to prevent bone loss.
Dentures attached to dental implants will still be removable – your dentist will teach you how to take them out for cleaning – but will not become loose nor fall out. Bridges are permanently attached, and your hygienist will teach you how to care for them.
For patients who have already experienced bone loss, we are able to provided bone graft surgery at our Cleckheaton practice. This procedure rebuilds your bone to a sufficient density for implants to be attached. We also accept referrals from other local dentists for bone graft and implant surgery – please complete our online referral form for your patient.
To find out about how long dental implant treatment takes, click here.